Success in Sacramento this morning! As hundreds of California citizens waited for a chance to speak, California State Senate Bill 1132, calling for a moratorium on fracking, successfully moved into 'suspense' and will be considered by the Appropriations Committee for vote before the full Senate after deliberations conclude Friday.
National attention has focused on the bill , authored by Senators Holly Mitchell and Mark Leno, due to the impact California's worsening drought and ensuing wildfires could have on the decision by California lawmakers.
In a New York Times May 14th article California's Thirst Shapes Debate Over Fracking, reporter Norimitsu Onishi notes that California is the only state where the exorbitant amount of water employed in fracking is a primary driver in the push for an immediate ban. Onishi cites a Western States Petroleum Association study conducted last year which revealed that the amount of water to frack one well equaled 87% of the water used over a one year period by a family of four.
As state officials consider more extensive use of fire retardants to conserve water in the battle against the early onset of a fierce firestorm season, the concept of using 5 million gallons of water to frack one California well borders on insanity. (see Energy Facts: Energy Facts: How Much Water Does Fracking for Shale Gas Consume? and data from FrackFocus)
The National Drought Monitor last week revealed that 100% of the State is experiencing extreme drought conditions, with some parts reaching rare 'exceptional' status.
The passage of SB 1132 would make California the third state to issue a temporary ban on fracking - along with acid well stimulation - until more environmental studies are conducted.
The other two states with temporary bans in place are New York and North Carolina. Vermont is currently the only state to permanently ban fracking. In Colorado, where legislation failed, a ballot initiative is now being written to place limits on fracking.
The Times article noted that "the drought, combined with a recent set of powerful earthquakes, has provided the momentum for about a dozen local governments across California, the third-largest oil producing state, to vote to restrict or prohibit fracking in their jurisdictions, as concerns over environmental effects and water usage have grown." (See also (See also an LA Times Editorial Does fracking cause quakes? California needs to know )
These actions include a permanent ban in Beverly Hills; a pending Los Angeles ordinance; a 45-day ban in Carson; and restrictions in Culver City and Santa Cruz and Santa Barbara counties.
The committee will announce Friday if SB 1132 moves through Appropriations for a vote by the entire Senate. That vote would occur within a few days. (see The Sierra Club information page on the moratorium for complete information.)


---
Daily Kos is hosting a CA Fracking Marathon blogathon this week to urge people to phone members of the committee to ensure SB 1132 comes up for a vote.
We are part of a coalition which includes Earth Works, the Sierra Club, 350.org, the Indigenous Envioronmental Network, and the Center for Race, Poverty and the Environment.
SPECIAL GUESTS
As we go to press this evening, here are some of the special guests who will be participating in the effort at Daily Kos this week to encourage readers to do their part to ensure SB1132 moves out of committee for a vote on the floor of the California State Senate.

Senator Holly Mitchell
(D-Los Angeles) is co-author of Senate Bill 1132 and represents California's 26th District. Mitchell serves on the Senate Rules Committee, the managing body of the State Senate, as well as the Budget, Insurance and Public Safety Committees. She chairs California's Legislative Black Caucus (CLBC) and also belongs to the Women's Legislative Caucus.
Richard Heinberg
, a Senior Fellow of the
Post Carbon Institute
, is internationally recognized as a leading Peak Oil educator. The author of eleven books, he most recently published
SNAKE OIL: How Fracking's False Promise of Plenty Imperils Our Future
.
Daniel Kessler is the Communications Director at the Climate Lab, a project of the Citizen Engagement Laboratory. He has worked with Greenpeace International and 350.org and writes on environmental issues for the Huffington Post.







Jhon Arbelaez is the California Organizer for Earthworks. Jhon volunteered for Americorps VISTA in New Mexico and for the Peace Corps in Ecuador. He has worked on environmental health issues and on developing plans for waste management, environmental education, and surface and groundwater conservation.







Kandi Mossett
is the Native Energy & Climate Campaign Organizer for the
Indigenous Environmental Network
(IEN). Kandi joined IEN in 2007 as Tribal Campus Climate Challenge (TCCC) and attended the UNFCCC Climate Conference in Cancun in 2010 where she spoke against carbon trading schemes.
Linda Capato is Fracking Campaign Coordinator for
350.org
. She was formerly Campaign Organizer for the Change Chevron campaign with Rainforest Action Network.
---
California Fracking Moratorium Blogathon
May 20-May 23, 2014
---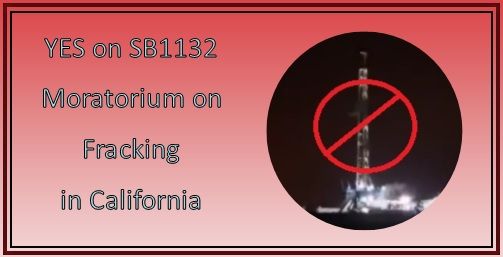 Key votes will be held this week on California Senate Bill 1132, which imposes a moratorium on hydraulic fracturing, or fracking as it commonly known. The fracking process poses many unacceptable public policy risks. These include contaminating water supplies; degrading public health; disproportionately affecting low income families and communities of color; using scarce water supplies in drought-stricken states; causing earthquakes; and harming wildlife and habitat fragmentation. If the bill fails, the legislative process toward moratorium must restart next January.
Please join us for a blogathon May 19-23 in a campaign to tell lawmakers to support this bill. This is a coordinated effort with a coalition of more than a dozen NGOs, including Earth Works, Sierra Club, and Center for Race, Poverty and the Environment.
And please call key lawmakers, ASAP. Tell them YES on SB 1132!
Sen. Kevin De Leon: (916) 651-4022
Sen. Ricardo Lara: (916) 651-4033
Sen. Ed Hernandez: (916) 651-4024
Sen. Cathleen Galgiani: (916) 651-4005
Sen. Ben Hueso: (916) 651-4040
Sen. Lou Correa: (916) 651-4034
Sen. Carol Liu: (916) 651-4025
Sen. Richard Roth: (916) 651-4031
Sen. Norma Torres: (916) 651-4032
Please Help Pass a Moratorium on Fracking in California!
---
Please tweet all diaries posted during the blogathon, adding the hashtag #SB1132. Feel free to link to your Facebook pages, and remember to republish each diary to your DK Groups. You can also follow all postings by clicking this link for the Climate Change SOS Blogathon Group. Then, click 'Follow' and that will make all postings show up in 'My Stream' of your Daily Kos page.
Our Daily Kos community organizers are Patriot Daily News Clearinghouse, boatsie, rb137, JekyllnHyde, citisven, peregrine kate, John Crapper, Aji, and Kitsap River, with Meteor Blades serving as the group's adviser.
Other Fracking News

A new peer-reviewed study, led by scientists with the National Oceanic and Atmospheric Administration (NOAA) and the Cooperative Institute for Research in Environmental Sciences (CIRES) at UC-Boulder, reports much higher than estimated methane emissions in Colorado's largest oil and gas region from associated equipment and operations. Accepted today to be published in American Geophysical Union's Journal of Geophysical Research – Atmospheres, this study is the latest in a series of scientific reports offering substantial evidence that major reductions in methane emissions from this sector are urgently needed. The study also reports that emissions of benzene, a known carcinogen, are seven times higher than official estimates and emissions of smog-forming volatile organic compounds (VOCs) are twice as high as previously estimated.
An AP report detailed the Bureau of Land Management failure to inspect fracking wells The report said BLM has not reviewed or updated many of its oil and gas rules to reflect technological advances, as required by a 2011 executive order. They include guidance on spacing of wells, which the report said could help maximize oil and gas production.

The bureau acknowledged it had not updated its guidance on oil and gas drainage since 1999 or its guidance on mineral trespass — interference of drilling or mining activity — since 2003.
The list of supporters of SB 1132 continues to grow
link